Walk Like a Giant, Sell Like a Madman: America's #1 Salesman Shows You How to Sell Anything!
By Ralph R. Roberts and John Gallagher.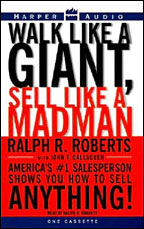 Dubbed "America's Scariest Salesman" by Time magazine, Ralph Roberts is the expert to turn to for tips on selling—regardless of your product. Look no further for answers on how to get incredible results than Walk Like A Giant, Sell Like A Madman.
Ralph's strategies truly set him apart from the average REALTOR®. In one year alone, he sold over 600 residential properties—fifty times more than the average competitor! In this amazing book, some of the secrets he shares include:
Identifying the decision-maker—it's not always who you think it is.
The importance of making an impression—with stunning results.
How to listen to what people want—and how to give it to them.
Closing the deal—fast!
Organizing your office—is technology working for or against you?
Very personal in style, this book is more than just a how-to primer on proper sales technique. You'll be inspired by Ralph's quest to be the best, and by how he overcame the stumbling blocks in his way. And while it might be next to impossible to match his record—not everyone has the chutzpah to sell houses at their own wedding—you will be equipped with proven, identifiable skills to increase your sales.
At once motivational, educational, and entertaining, Walk Like A Giant, Sell Like A Madman will raise both your performance and your goals to the next level.
ISBN13: 9780887309304
ISBN: 0887309305
Click here to buy Walk Like a Giant, Sell Like a Madman on Amazon.com today.