Advanced Selling For Dummies
By Ralph R. Roberts (Author), Joe Kraynak (Contributor)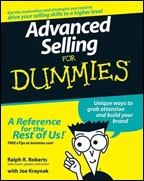 Real estate giant Ralph R. Roberts and professional writer Joe Kraynak have crafted Advanced Selling For Dummies® as a terrific resource that can energize your business performance and boost your bottom line. An excellent guide for both seasoned salespeople who want to take their productivity to the next level and small- and large-business entrepreneurs who are missing the advanced selling strategies that they need to generate business and revenue.
This book is packed with practical advice on how to boost sales, productivity and profits through the full-court-press approach to marketing and sales. Unlike other books that claim to reveal the "secret" to selling, Advanced Selling For Dummies is based on the premise that no single secret exists. You need a positive attitude, a strong work ethic, a creative mind, and the "Stick-to-It-tism" to survive and thrive in today's competitive marketplace.
In the book, Ralph R. Roberts and a select group of the top sales people and trainers across the country give readers the necessary tools to become top-producers. Stressing the importance of focusing on your innate skill sets and creating a distinctive brand for yourself, Advanced Selling For Dummies teaches the tricks and habits that can benefit you both in your professional and personal life—such as:
Believing in and motivating yourself
Planning the work and then working the plan
Techniques for honing your sales skills
Hour of Power-100 phone calls, one hour a day
Personal branding through shameless self-promotion
Credibility building through websites, blogging, and social media
Personal partnering for inspiration and accountability
Tapping the un-served and under-served multicultural marketplace
Embracing change and taking risks
Implementing the latest productivity-boosting technologies
Hiring an assistant so you can pursue your passions
Tapping the power of R-Commerce (Relationship-Commerce)
Roberts also tackles the process of running a sales operation, which requires deft maneuvering. Here, you'll learn to create solid partnerships with like-minded, talented people; set the right goals and reward yourself properly when you reach them; embrace change in your industry (and the world at large) to grow your business; create your own USP, a kind of personal resume and mission statement; "seed" your business cards; take a weekly "Hour of Power" to keep in touch with your contacts; and use the latest technology such as the Internet and blogs to grow sales.
ISBN: 0470174676
Click here to buy 
Advanced Selling For Dummies on Amazon.com today.