Foreclosure Self-Defense For Dummies
By Ralph R. Roberts (Author), Lois Maljak (Author), Paul Doroh (Author), Joe Kraynak (Contributor)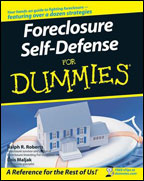 Save your home, keep your equity, re-establish your credit!
If you can't make your house payments or received a notice of default or foreclosure notice from your lender, you are running out of precious time. If you don't act soon, you will lose your home and all the equity you have in it.
Most people facing foreclosure mistakenly believe that they have only two options: pay up or get out. But the authors of Foreclosure Self-Defense For Dummies can tell you that is simply not true. In this book, the authors reveal over a dozen options for saving your home or getting out from under it, including:
File for bankruptcy
Reinstate the mortgage (by catching up on missed payments)
Negotiate a forbearance
Refinance your way out of trouble
Sell to an investor and buying it back
Negotiate a short sale (convince the lender to accept less than you owe)
Redeem your home after the auction (buying it back)
Sell the home yourself (to reclaim more of your equity)
Walk away… without having to throw good money after bad
Offer a deed in lieu of foreclosure
Stall… through the courts and other delays
If you or someone you know is facing foreclosure, this no-nonsense guide helps size up all the options and increases the chances of saving the home. You'll see how to delay foreclosure, form a plan of attack, negotiate solutions with your lender, and restore your financial health. Discover field-tested strategies for dodging the foreclosure trap or getting out from under a house you really can't afford.
About the Authors:
Ralph R. Roberts is an award-winning Realtor® and one of the nation's leading real estate and mortgage fraud forensics experts. He and his team of foreclosure specialists, including co-authors Lois Maljak (a foreclosure survivor) and Paul Doroh, have assisted thousands of distressed homeowners dealing with the realities of foreclosure.
ISBN: 0470251530
Click here to buy Foreclosure Self-Defense For Dummies on Amazon.com today.