Foreclosure Investing For Dummies
By Ralph R. Roberts, Joe Kraynak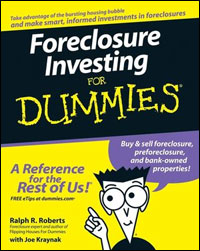 Foreclosure Investing for Dummies will teach you how to minimize your risks and maximize your return.
Want to buy and sell foreclosure properties? This hands-on guide covers all aspects of investing in foreclosures, from identifying potential properties and assessing value to carefully researching and inspecting properties, so you don't get stuck holding a money pit . . . or even worse, a worthless piece of paper! Discover how to deal with homeowners in preforeclosure, bid for a property, buy bank-owned properties at well below market value — and ultimately sell for maximum profit.
Foreclosure Investing For Dummies shows you how to:
Research property titles, mortgages, and deeds
Build a strong investment team
Obtain financing
Network your way to success
Avoid common pitfalls
Invest with integrity
ISBN: 978-0-470-12218-1
Click here to buy Foreclosure Investing For Dummies on Amazon.com today.