52 Weeks of Sales Success: America's #1 Salesman Shows You How To Close Every Deal!
by Ralph R Roberts and John Gallagher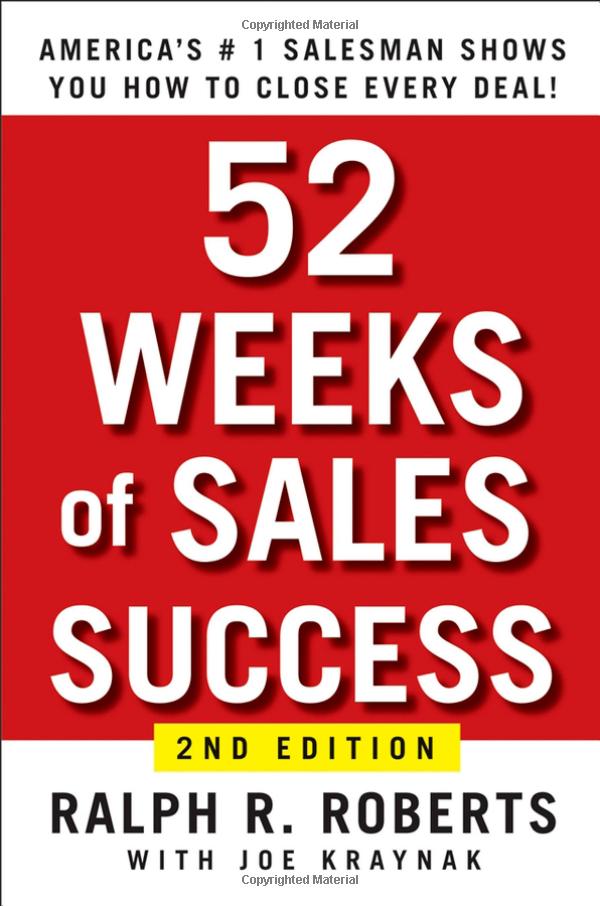 America's #1 salesman, the legendary Ralph R. Roberts, is back with a recipe for success that no salesperson, novice or veteran, can afford to be without. If you've already read Walk Like a Giant, Sell Like a Madman, you're ready for more of this super-salesman's powerful, practical advice. If you haven't, you can make up for lost time by studying this book now!
More than any other human on the planet, Ralph lives, eats, and breathes selling.
Dubbed "America's scariest salesman" by Time for his accomplishments, which include selling over 10,000 homes, Ralph is in great demand as a speaker, coach and seminar leader. So extensive were his out-of-town speaking engagements that his own staff spoke up and said, "Why don't you stay home and teach us a thing or two?" He immediately began series of popular weekly sales seminars for his employees, on which 52 Weeks of Sales Success is based.
Ralph offers the same sales-generating wisdom and closing tools to everyone trying to reach his or her full potential. He reveals strategies to meet the modern sales environment head-on:
Spot business opportunities where your competition doesn't.
Learn tips for breaking the sales slump.
Know how to get the most out of your past clients—and when to "fire" a customer.
Acquire surefire methods to supercharge your networking efforts.
Learn the keys to marketing a home-based business.
Design outlines for developing your daily, weekly, monthly, and yearly success checklists.
In addition, Ralph presents the strategies and techniques of other sales superstars from many different industries, including advertising, investment, auto, home decorating, home-based business, audio-visual production, Internet service, insurance, travel, and mortgage brokering, to name just a few.
The strategies Ralph imparts in 52 Weeks of Sales Success will set you apart from every other salesperson. You'll learn how to look for and listen to what people want and try and find in for them; how to identify true decision makers in order to expedite closings; and most important, you'll learn Ralph's technique for making an impression. It's all in this book, packed with infectious enthusiasm, wonderful personal stories about his own goal-setting and achievements, and down-home wisdom about setting priorities. Ralph's message can get you incredible results.
Aimed straight at the problems of entrepreneurial salespeople, Ralph's methods will help you:
Conquer your fears of selling!
Eliminate nonproductive habits!
Get to the point of closing fate!
Walk away with more sales than ever before!
Close every deal!
SBN13: 978-0470393505
ISBN: 0470393505
Click here to buy 
52 Weeks of Sales Success on Amazon.com today.