Real Wealth by Investing in Real Estate
By Ralph R. Roberts with Joe Hafner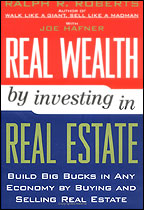 Real Wealth by Investing in Real Estate is called the real estate users manual to building incredible wealth. Ralph Roberts, American's #1 REALTOR®,shows you the secrets to successfully investing in real estate and the tools to make a fortune doing it.
Distilling over twenty years of experience into an easy-to-read book, Ralph presents practical, systematic advice that walks the non-professional through each step of the process—covering everything from finding capital and researching properties to making the decision about whether to buy and rent or fix up and sell. Throughout, Ralph includes real-life examples that map out the road to success, as well as the common pitfalls to avoid.
As successful as he's been as a REALTOR®, Ralph's experienced even more success as a real estate investor. In Real Wealth by Investing in Real Estate, Ralph shares his expertise and the secrets of his success so that you can begin building your own real estate investment portfolio.
Comprehensive coverage includes key topics such as:
The ins and outs of financing
Determining what you can safely afford
Working with homeowners to invest in foreclosure properties
The secrets of cashing in on government foreclosures
How and where to find no-money-down deals
Working with investors to augment your investment capital
And along with the step-by-step guidelines and expert advice, you'll also find all the tools you need to get started, including:
Directories of essential resources, including many online resources
Numerous forms and checklists to help you stay organized and on track
Model letters for contacting attorneys, homeowners, tenants, and others
Real Wealth by Investing in Real Estate will help you develop a comprehensive plan for building your financial security through real estate investing, and arms you with the know-how to make your plans a reality.
ISBN: 0735202354
Click here to buy 
Real Wealth by Investing in Real Estate on Amazon.com today.