Sell it Yourself
By Ralph R. Roberts and John Gallagher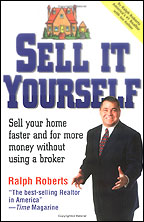 In Sell It Yourself, America's #1 REALTOR® covers everything you need to know to save thousands of dollars in real estate commissions. Ralph shares his tips, techniques, and inside secrets, including:
Properly pricing your home to sell quickly
How to get real estate professionals to help you sell your home without paying them a commission.
The Multiple Listing Service: What it is and why it's important for you to know how to access it.
Anticipating and dealing with all of the hidden expenses that could break your budget
Why the first impression your home makes on a potential buyer can seal or break the deal and how to make sure that first impression is a good one
Utilizing the Internet to sell more successfully
Turning around buyers' objections so they decide to buy your house instead of walking away
Keeping your family and possessions safe during the home sale process
Handling all of the paperwork so your home sale is legal and fair
Ways to ensure that your deal won't fall apart
Sell It Yourself also Includes:
For Sale by Owner horror stories and the lessons you should learn from others' mistakes
The most common For Sale by Owner questions
Ralph Roberts will help you save tons of time and money in the sale of your house. If you're serious about selling your home yourself, this book is required reading!
ISBN: 1580622046
Click here to buy Sell It Yourself on Amazon.com today.